Every year I, along with countless other fashion following die-hards, await what could arguably be called the most fashionable event of the year, especially these days now that the Oscars has become so predictable in terms of the red carpet. The Costume Institute Gala, held every May, always packs a major fashion punch because the rules that apply on other red carpets just don't hold any water here. It's encouraged, if not expected, that anyone in attendance go all out. So why is it that this year there were many, many looks that either did nothing for me at all or left me scratching my head thinking 'WTF?". This year's exhibit "The Model as Muse" has left me feeling a lot less anxious to trek up 5th Ave. to see it than I normally am, mainly because I think it's stupid-bordering-on-insulting that the models, most of whom
cannot
be called muses, are the focus instead of the clothing. But I'll await judgment on that until I do drag my ass uptown to see it. I will say this though, given the evening's theme I was expecting big things on the red carpet if only because every non-model female guest would have to contend with unnaturally beautiful women and presumably up their respective antes in order to do so. Unfortunately that was not to be, and a lot of the models upstaged everyone else. Last year's Superhero themed event, 2007's Poiret event, 2006's Anglomania, 2005's Chanel and 2003's Goddess themed evenings all had some fantastic fashion moments, so what exactly went wrong here? First, as my fellow tFS-er
Kimair
already pointed out there were just too many people in miniskirts, and for every one that worked, there were many more that looked cheap or underdressed. Call me crazy, but I love a gown, I always will, and really, even for a celeb how many events can you go to where "the more dramatic, the better" may as well be the dress code? Combined with an overwhelming amount of tough, clunky shoes and booties too many people wound up looking more appropriately dressed for clubbing than they did for a gala. But like I said, there were some mini-length looks that worked for me.
First there's co-chair Kate Moss in Marc Jacobs. Now normally I find her style pretty overrated, and I still don't get what the whole obsession is about. But as sick as I am of her face I gotta say, the dress is gorge, kind of a modern take on 30's movie glamour, and the turban is a fun, theatrical touch. The only thing I don't love is the shoes. A sandal with tiny, painful little straps over the toes and ankle would've looked better.
Next there's Stam in Rodarte. Love it. Love the colors, love the soft hair and darker makeup. Love the accessories (here the tough, chunky shoes work). Need I say more?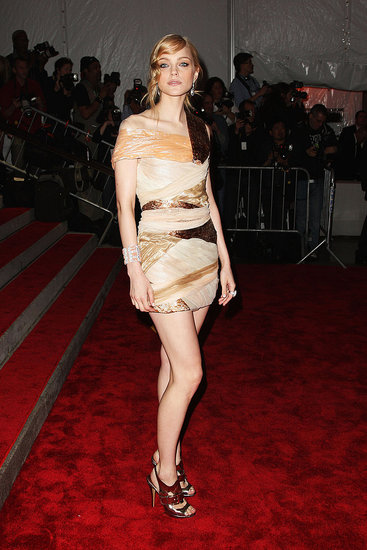 Then there's the stunning Alek Wek, who has never looked better imo. The truth is, I'd probably hate the dress on someone else for being too garish, but with her coloring and that dramatic makeup I'm kind of swooning over it.
Another look that under normal circumstances I'd be hating was Sasha P's Giambattista Valli. With the exception of the tiara, I think it's just the right side of kooky and dramatic. Either that or it's true that models do in fact know how to wear clothes, and can make a peacock feather cape and mini dress seem like a great idea.
Now, onto the gowns...
Iman. Donna Karan. Platinum/ivory hybrid color. There was just no way in hell it could've looked bad.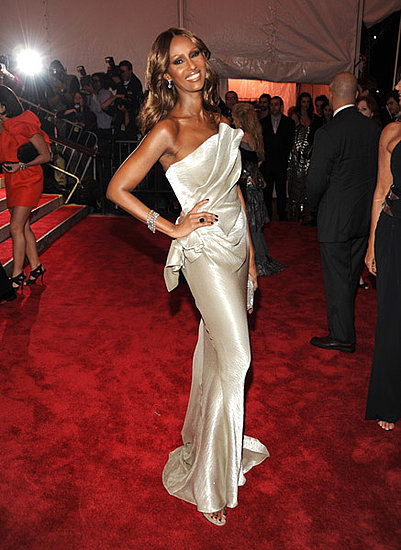 Natalia Vodianova in a pink Fortuny "Delphos" looked great. The color was just unusual enough to be noticed in the sea of neutrals and brights, she's gorgeous as it is, and I'm obsessed with Fortuny. It wasn't a
standout look
per se, but her choice to wear Fortuny is pretty fabulous in and of itself.
Iris Strubegger (who has quickly become one of my favorite faces on the runway) looked amazing in one of my favorite looks from the Givenchy S/S 09 couture collection. I rarely say fierce, preferring to save it for special moments when my inner queen just can't help herself, but I'd say it applies here...
Another stunner in Givenchy was Kristen McMenamy. I love her, and I love the dress, so even though I'm slightly disappointed that she chose something from an older collection, I'll get over it. Plus, how ballsy is it to wear white when you choose not to color the gray in your hair? I love ballsy. Always will.


A controversial choice as far as most on tFS were concerned last night; Blake Lively in Versace. I love the color, I love the sleek hair and makeup, sure the girl can't pose and the dress is slit down to here and up to there, but my guess is that if that dress showed up on someone else very few people would be ripping the wearer to shreds and saying she looked like a slut. Do you really mean to tell me that
Gisele
didn't look just a smidge on the trashy side in a sparkly blue micromini? Come on people, double standards!!!
As for Shalom Harlow, let's just say that Lisa Fonssagrives would be proud. This isn't the first time she's worn a dramatic, borderline weird look to the event. in 2007 she wore a fringed Viktor & Rolf gown and cape, and just like I did then I think this look works.
I adore Coco Rocha in this bronze Isaac Mizrahi. The color with her pale skin and deep red hair is a risky, but pretty damn fabulous, combo.

And finally, some much needed guy candy in the form of Mr. Chuck Bass himself, Ed Westwick. I couldn't care less what he's wearing. I will throw this suggestion out there though, him + Tom Ford menswear = a very good thing....just sayin'.
Other than that, nothing much to write home about. Due to the drama between Azzedina Alaia and Anna Wintour, the red carpet probably missed out on some fabulousness since something like 7 people were slated to wear his clothing, including Naomi Campbell and Stephanie Seymour, who decided to sit out in protest with him. I think the whole thing is so silly. I get why Alaia's pissed that his work was completely ignored for the exhibit despite the fact that he was
HUGE
during the Supermodel era, but to me his asking the women he designed clothes for not to wear them was kind of foolish. The ultimate revenge would have been to have all of those women show up looking incredible in clothing by a designer who wasn't given his due. Instead the whole thing comes off like a hissy fit from a temperamental diva who asked his friends to pick a side.
Now for the WTF moments I had mentioned earlier.
Erin Wasson in Phi: This is a look that's begging for someone to give her a good slap across the face for completely ignoring the fact that she's attending an event that's become known as "The Oscars of the East". Wintour and Co. should institute a door policy or something. Anyone looking like they've got a hypodermic needle in their clutch and day old underwear on is not permitted.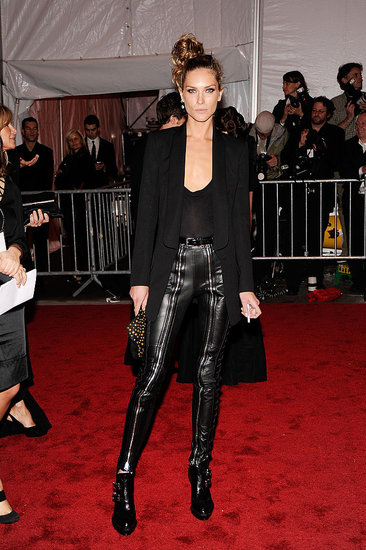 Dr. Lisa Airan in Balmain: This isn't a Kiss concert, hon. I usually think she looks ridiculous and overdone though, so this is no surprise.
Agyness Deyn in Burberry: No joke, the first thought I had was of Gene Hackman in drag in "The Birdcage". It's a shame cause the dress was pretty on it's own.
Molly Sims in Dolce & Gabbana: You know what that beautiful gold Christmas gift-wrap looks like after a kid rips it off of the box? This is it in ensemble form.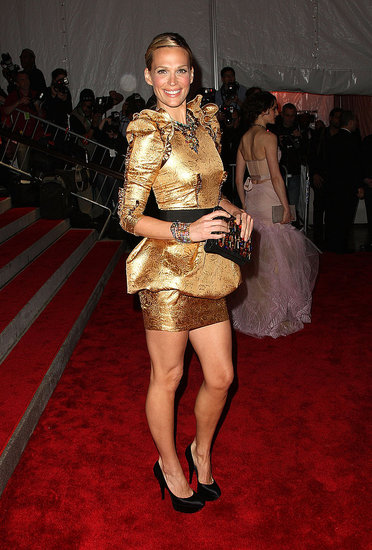 Anne Hathaway in Marc Jacobs: I actually liked this dress on the runway. But here the hem looks about half a foot too short. I'd almost be willing to overlook that if it wasn't for the Jacqueline Susann hair and jewelry.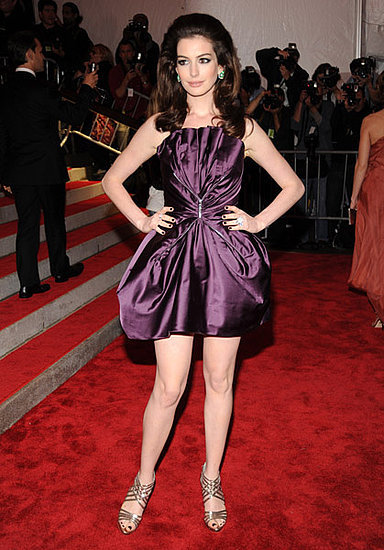 Victoria Beckham in Marc Jacobs: I'll admit, I like the dress. It's cute and kinda fun. But she always,
always
overdoes everything. Her skin is too tan, her posing is too posed, her hair and makeup are always too severe for her bone(y) structure. No matter what she wears the bad always seems to overshadow the good for me.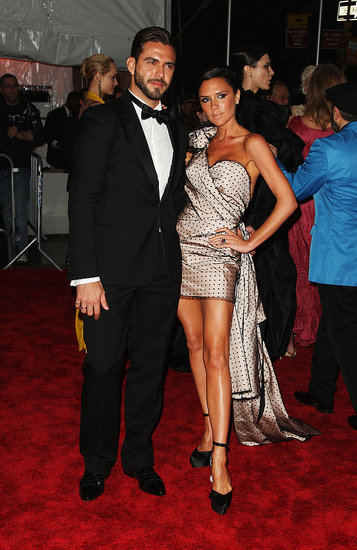 Rhianna in Dolce & Gabbana: The word dopey comes to mind, trying too hard is a close second and ridiculous comes in third. A safe bet is this, if an outfit looks silly ON the runway on a model it's practically a given that it's gonna look silly on a real person in real life where you aren't strutting to a thumping beat with a spotlight glaring on you. And WHAT is with her obsession with driving gloves? They don't go with everything ya know!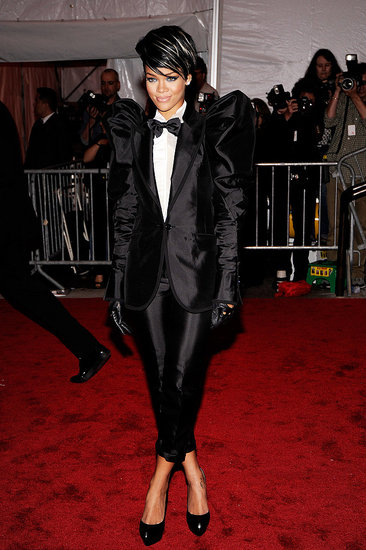 Madonna in Louis Vuitton: If you can't figure out my reasoning for this one, what the hell are you doing reading this blog?!?! Seriously though, I kinda liked that dress on the runway (though even without the stupid styling the dress is way too youthful for a 50 year old woman). I kinda liked those boots on the runway. I even kinda liked those bunny ears on the runway, but combined as one outfit on someone who, it must be said, is becoming more and more past her prime everytime she's seen the whole thing comes off as tragic.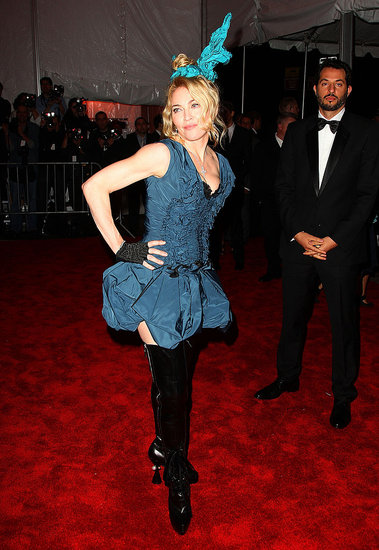 It was a pretty odd night as far as Met Galas go. There wasn't much "WOW" to be had on the carpet, and even the selection of guests wasn't as fabulous as usual. I just pray that the exhibit isn't as much of a letdown as the event was, but be assured that when I do go to see it you'll be getting a rundown.