The cowboy; the iconic image that's become so instantly recognizable and so identified with "America" that it's a wonder the entire world doesn't think this whole country rides horses, wears spurs and....does whatever else cowboys do. Hero to millions of little boys, overzealous straight men, gay porn directors and even, on occasion, fashion designers. No prizes for guessing where this is going.
Today Riccardo
Tisci
debuted his S/S 09 Ready to Wear collection for
Givenchy
and the inspiration, I'm assuming anyway, was cowboys. Lucky for us
Tisci
isn't one for themes, because no theme is more of a one way ticket into full on tacky territory than cowboys. Given that knowledge, there have been many designers who have tapped into the Wild, Wild West. I mean, Ralph Lauren has built an entire facet of his image on it, so it can't be all bad, can it?
Tisci
started things off safely enough, with more of the monochrome razor sharp tailoring that he's become so well known for at
Givenchy
. Into this he integrated some
Alaia
/
Versace
-
esque
bondage, which is the obsession
du
jour
for young designers. Now, I love a bit of kink in my fashion as much as anyone else, but I'm starting to get a little sick of it. Some designers were born to do kink. Others, not so much. Unfortunately the designers who don't do it in a really fabulous way make it so that you don't want to see anyone doing it at all. At least, that's how it works for me. But I digress. For this opening passage, the western influence was pretty subtle, to the point that it was non-existent. He sent out some buttercup yellow and beige organza pieces with triangular scalloping worked in curves around the surface of the pieces. That trimming reminded me a bit of the
cut work
you see on cowboy boots, but like I mentioned, it's not literal.
Then he segued into trickier territory; suiting with a decidedly Colonel Sanders flavor. I don't care how sharp and flawless the tailoring is, did he have to put that stupid looking little western tie with the looks? On the plus side, Frankie
Rayder's
feline face made an
appearance
on the runway in one of the aforementioned suits. Thigh high
cowboyish
boots made an
appearance
with a western shirt-come-
shirt dress
and
sheriff's
badge brooch.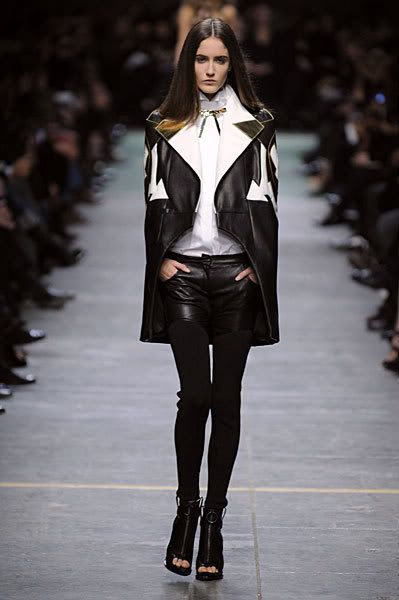 But then it devolved into full on gay biker bar in the Meatpacking District on a busy Saturday night. You didn't think that gay porn reference earlier was just for fun, did you? Black leather "chaps" were integrated into the cut of bleached denim, one pair even had a "codpiece" worked into the crotch....forget the back, the leg or the decollete, the crotch is the new focus according to
Tisci
. A crocodile harness was added to the lineup, perhaps as a play to steal the kinkier portion of Hermes' clientele. Even a leather daddy or dominatrix likes exclusive luxury. The worst part (I know what you're thinking, "there's something worse than bleached denim?") was the gold, white and black leather worked into the intricate
cut work
patterns you see on a vintage country music star's stage wear. Needless to say this portion of the collection was not the most successful for me.
But luckily things perked up towards the end. The sharp shapes that dominated most of the collection were softened up a bit with some fluid draping, which actually looked really beautiful paired with the severe tailoring. The country music thing struck again with giant crystal embellishment on the pieces that
could've
slipped right into
Dollywood
land, but stayed just shy of it. Fun fact: during his tenure at
Givenchy
, Alexander McQueen also did a collection inspired by the American west and,
tada
!, Dolly
Parton
. What is it about the house that's so firmly associated with understated, timeless chic that drove two very different designers to explore one of the more kitschy elements of American culture?
Could this be some sort of subtle jab at the way the world has come to view America, or is this just
Tisci's
attempt to pull a
Moschino
and insert irony into his clothes? You hear that argument all the time, that it's supposed to be ironic and not as serious as it appears. But here's the problem; irony is pretty much lost on clothing. You don't get humor from a pair of leggings studded with crystals, or a pair of leather pants that look like a tragic mix between Elvis and Ziggy Stardust. Overall I have a love/hate relationship with this collection. The things I like, such as the first passage of looks, I like a lot. The stuff I hate, well....I
hate
it. Like so many other collections so far this season, I'm left feeling unsure about this. It doesn't excite me, nor does it repulse me entirely. And if
Miuccia
Prada
has taught me anything, it's better to be repulsed than to just be uninterested.
all fashion show images from

Catwalking

.com via

MulletProof

@

theFashionSpot